Diamond Valley Lake Trout Plant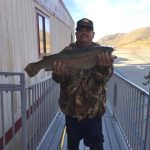 Have you ever wondered where Diamond Valley Lake gets their trout? The trout makes it to Diamond Valley Lake through a process called a "trout plant". The supplier of Diamond Valley Lake is Mt. Lassen Trout in Red Bluff, CA. They are known for the quality of their trout as they have been in business since 1949. They have over 200 years of experience in their staff all together. Mt Lassen does Diamond Valley Lake trout plant of a variety of sizes of rainbow and lightning trout, from fingerlings to trophy size rainbows over 20+ pounds.
The Stock at Diamond Valley Lake was a sight to behold. Thousands of pounds of trout being dumped into the lake right on the boat launch ramp did not go unnoticed. Large Striped bass waited nearby for a chance at an easy meal. Once the first chase started other Striped Bass became motivated to participate. After about 10 minutes it became calm. The trout were allowed to travel around freely and were safe for a little while.
The next day Anglers would be lining up at the lake for a shot at the freshly stocked trophy rainbow trout. Anglers of all ages are able to pull on some of these trout. Families see it as a chance to bond with one another.
A variety of techniques are used to land these fish from the shore and by boat. Some of the most excitement comes from the beautiful orange lightning trout. At the end of the day most anglers are excited to leave the lake with a fresh rainbow trout to eat for dinner.
Diamond Valley Lake's current hours are 6:00 am to 4:30 pm. They are open from Wednesday thru Sunday. Come and enjoy the great fishing afforded by these Diamond Valley Lake trout plants. Check out the links below for more information. Read more about Water Boats and Bass and earn chances to win some great prizes. Also prizes are being awarded for great bass catches.
DV Marina: https://dvmarina.com
Mt Lassen Trout: https://mtlassentrout.com/recreational-fishing/