2020 Good News… One Small Step Forward in a Forgettable Year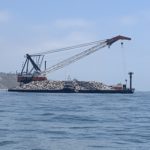 Despite millions of everyday heroes stepping up to the COVID and other challenges, this past year was remarkably devoid of positive projects. Save one…
I remember as a young man coming across an interesting looking, finely bound volume while searching through a local bookstore. The book was titled "The Wit and Wisdom of Spiro Agnew." History tells us that Spiro Agnew had served a single term as Vice President and was quietly retired. Still, the book just screamed open me and I couldn't resist. I was rewarded with 85 pages that were completely blank. Not a sentence, not a phrase, not a word graced a single page. Nothing. Assuming the copyright expired, the same text seems oh, so fitting for "Good News Highlights of 2020." Save one item.
First of all, despite 2020's unrelenting carnage, there were winners. 2020 was the year of everyday heroes: just plain folks, folks who did their job, often in the face of incredible challenge and risk. The winners were individuals who not only stood out facing the incredible array of challenges that 2020 provided, they were people like the lady or guy next door who, day after day, showed up and performed in the face of deadly adversity. My hat is off to these true heroes.
That being said, looking back through the gloom of this past year, I did come across a unique project that could be reviewed not as a response to a crisis, but as a step forward for marine life and the outdoors community. 2020 marked the completion of the Palos Verdes artificial reef, a prime piece of constructed marine habitat that dramatically improves marine productivity along the California coast. Despite planning and permitting starting in the 1990"s, the Palos Verdes / Montrose Settlement Mitigation Reef placement is no longer "under way," but is now quite literally under water. A big thank you for completing this effort goes out to Dr. Dan Pondella. Dan heads up the Southern California Marine Institute and is a professor at Occidental. He and his team took up the challenge a few years back and did a stellar job adopting, then shepherding this decades old project through to completion. For those who might want to visit (and fish!) the new reef, the list of GPS coordinates is posted on our sportfishingconservancy.org website. The numbers are compliments of Dan and SCMI.
Tight lines,
Tom
Palos Verdes Artificial Reef GPS Coordinates
Name "Centroid/Mid-Point
(Degrees)"
4B 33.7215675°, -118.3464353°
4C 33.7211084°, -118.3463911°
4D 33.7219814°, -118.3468575°
5C 33.7204756°, -118.3449100°
5A 33.7215803°, -118.3454689°
5B 33.7210044°, -118.3450552°
8A 33.7190143°, -118.3401493°
8B 33.7185501°, -118.3406224°
8C 33.7180752°, -118.3404578°
7B 33.7199043°, -118.3424517°
7A 33.7203657°, -118.3420577°
7C 33.7193331°, -118.3423194°
6A 33.7210210°, -118.3435318°
6D 33.7205037°, -118.3435636°
6C 33.7199821°, -118.3435258°
2B 33.7228135°, -118.3494304°
2C 33.7225749°, -118.3487502°
2A 33.7231128°, -118.3499290°
3D 33.7223519°, -118.3480178°