Mid-Summer and Time to Get Our Feet Wet Along the Lower Gaviota Coast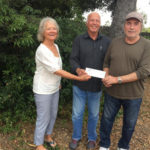 Join the Gaviota Coast Conservancy and the Sportfishing Conservancy on Saturday August 20. The 2022 Conservancies' Classic will benefit marine habitat and give everyone a shot at winning an awesome stand up paddleboard. Pictured right: Janet Koed, Tom Raftican and GCC president, Steve Forsell at 2020 Conservancies Classic proceeds presentation.
There's no better way to splash into a summer morning than to wade the Pacific, surf fishing the lower Gaviota Coast. On Saturday August 20 the Sportfishing Conservancy and the Gaviota Coast Conservancy will hold our third "Conservancies' Classic." The Classic challenges surf fishers (or kayak or other non-motorized fishing craft) to test their fishing skill and at the same time support of the Gaviota Coast Conservancy and its mission that specifically includes recreational access to the coast. As proud partners, the Sportfishing Conservancy looks to grow that relationship while supporting the coastal/marine environment. Enter the Classic for $20, come away with a valuable goody bag and a chance to win an awesome stand-up paddleboard package while helping a great cause. Action kicks off at Ash Avenue in Carpinteria with mandatory check-ins starting at 6:30 and running all morning. This is fishing for glory at its finest and after awards there will be a drawing for a Bass Pro Ascend stand-up paddleboard (Thank you Bass Pro!!). And remember, everyone fishing in the Classic will have a chance to win the SUP along with the satisfaction of knowing that your participation will help a great, fishing friendly future.
Tight lines,
Tom
Note: for all of those who will be on vacation I late August, our annual "No-Motor Tournament" is scheduled for Saturday October 22. That event will benefit the Land Trust for Santa Barbara County and the Carpinteria Salt Marsh and will again be headquartered at Danny's Deli. Stay tuned for details.